Good mornin', muffins! Let's have an egg sandwich for breakfast.
I always wondered how places like Wawa or (ugh) McDonald's got such a cool little egg patty to put between bread products and yield a sandwich. And now I know the answer: large-scale industrial food production. But you can do it at home with your hippie eggs too! The secret is using your 9-inch nonstick omelet pan (which you ALL HAVE, right? Seriously though, it's the only pan you'll ever need if all you intend to eat is eggs)
So throw that little pan on medium heat with a bit of butter. Toast up two pieces of bread (or English muffin, or bagel, or [ideally] a biscuit). Crack an egg into a bowl and beat it with about a tablespoon of water, then sprinkle in some salt and pepper. Also, slice up a little cheese (or grate it, or use Kraft Singles. Whatever). When the butter is hot and foaming, pour in your beaten egg and use the spatula to push the cooked egg around and swirl the liquidy bits to get them to solidify. Think of making an egg crepe.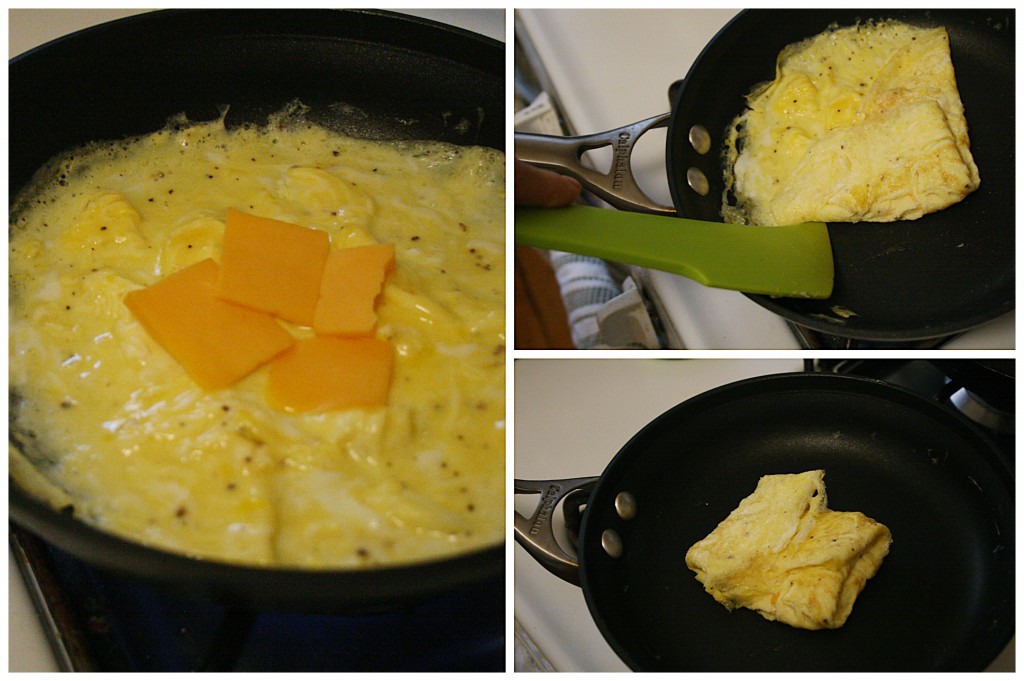 Now, following the lovely above diagram, plonk your cheese into the middle of the mostly-set eggness and wait for it to melt a bit. When things are getting gooey (cheese) but also firm (egg), use the spatula to fold the sides in one at a time into a little eggy package. Yank your bread from the toaster and assemble your sandwich.
And viola*, you have a ridiculously great breakfast. You might have to start eating one every day of the week (but all the cool kids are doing it) and feeling super chipper and merry-sunshine about things. Just a warning.
*[sic]