Mason jars are Super Trendy right now, you guys! So shabby-chic! So bougie! So Anthro! So ugh!
Except, actually, they are actually useful and cheap, and they evoke the farm life that I miss very much, so they fit right in with my aesthetic. Just go with it, because sometimes the hipsters and yuppies are on to something. Generations of grandmothers can't be wrong, either! I bought a case of 12 quart-sizers a year ago for about 20 bucks and have had all of them in heavy rotation since.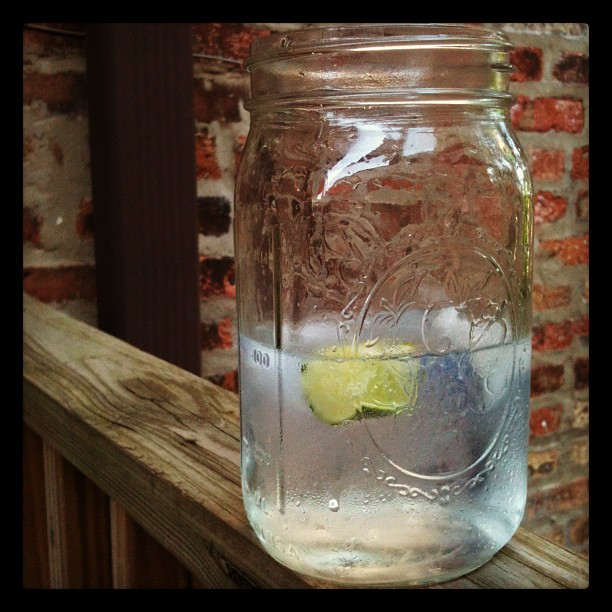 What follows are the ways I end up using them, but I'm sure your smart little brain can come up with more. Also: if you already buy a lot of salsa, jam, pasta sauce, Farmers' Market lard, etc.: no need to throw those out! Run them through the dishwasher and you've got a Jar, my friend.
1. Bulk dry good storage
Were You Aware that even places like food co-ops and Whole Paycheck* have big ol' bins full of flours and rice and and quinoa and even things like chocolate chips and seitan mix that you can buy at a significant discount just because you aren't paying for a container? Well, you can. Scoop some into a plastic bag, come home, and dump it into a jar. You've just paid $2.50 for seventeen servings of oatmeal. Hooray!
2. Hippie tupperware
Stuff a mason jar full of vegetables and leaves, a drizzle of oil and a splash of vinegar, and voila. The movement in your backpack or purse will naturally titrate it by lunchtime. Bring a long fork.
3. Refrigerator pickles/jams
I have covered this before, and how. But the basic principle is that you can cook things into a jammy sugary spread or let them mature in some brine and then they can live in your fridge. No heat-processing. Just eat them before they go bad (and you will). Of course, if you wanna be all fancy, huh, you can do that too and can like a grownup. A cavalcade of pickling possibilites await you here.
4. Salad-dressing-o-matic
Same as #2, more or less, only don't add the salad. 1/4 cup of olive oil, a tablespoon or two of acid (vinegar, lemon juice, what have you), sprinkle of salt and pepper, and any fancy extras you like (diced shallots, a dollop of whole-grain mustard, fresh chopped herbs) and then shake it until all the drops blend together and emulsify.
5. Portable, incognito cocktails
I am not condoning drinking in public spaces during the early afternoons of summer, except that I totally am. Since apparently that's frowned upon, you can do this on your "back porch" instead. Mix up a cocktail (you can fit two servings in a quart!) and drink from the jar. Use the lid if it has to get transported elsewhere.
6. Faux milk frother
This works best with a pint jar. Fill it up about halfway with milk for your coffee, screw on the lid, shake it until bubbles form, and then microwave for one minute (lidless) and scoop off the foam with a spoon. It's not barista-level, but it's fun.
7. Household uses
Change jar, flower vase, candle-holder, etc. Sometimes when we have Giant College Ragers** we set one out on the bar to ask for booze contributions, and now we have about $6.75! Most of which is mysteriously in Canadian coins!
8. Freezer container
If you're freezing chicken stock, leftover chili, puréed soup, or whatever, a jar works well. Just be sure that you don't fill it totally full (expansion! It will break) and that you let your liquidy food cool completely before sticking it in there (thermal shock, I think!). Bonus: no BPA, which is bad for you!
9. Baking dish for tiny pies or cupcakes or whatever
Let me tell you the story of how one year I decided to make my Long Distance Boyfriend some tiny jar-pies one November since he was studying the inhospitable, Thanksgiving-less foreign land of Canada. I had to mush the crust in all weird and a lot of the filling burst out and when I took the jars out of the oven they were all hot and slide-y and one fell on the floor and broke and then it cost about $35 to ship the damn package and then it turns out that he doesn't even like pie very much. But the thought, it counts, etc. And it was a neat idea.
Cupcakes, in retrospect, probably work way better, and using a silicon baking sheet underneath the glass to give them a little grip. Also filling them with chili and then covering the top with cornbread (a project for when it's not 95 and humid). Or! Little savory pies with meat filling à la Pleasant House! Ugh, yes.
10. Smoothie vessel
Fill it with a few spoonfuls of yogurt, some berries, chunks of banana or mango, some greens (yes, we are making a green smoothie, shut up), and enough liquid (milk or juice) to make your immersion blender happy, then purée away. Then: VITAMINS.
*I regret the day I made this lame joke to my father because he refuses to call the store ANYTHING ELSE now
**Or when two dozen people show up to be sweaty and drink in our apartment