Preorder:
Junior Nattie McCullough is totally OK with her place in life: Latin whiz. Member of the school's gay-straight alliance. Joni Mitchell superfan. Seventeen-year-old who has never been kissed. So when last summer's crush and her former classmate—Young Lungs lead singer Sebastian Delacroix—comes back to town with his new hit single "Natalie," she can't bring herself to believe it could possibly be about her…could it?
As Nattie sorts through the evidence (the lyrics, Sebastian's elusive text messages, and their brief romantic encounter last year), the song's popularity skyrockets, and everyone starts speculating about "Natalie's" identity. If that wasn't mortifying enough, Nattie runs into another problem: her confusing, flirtation-packed feelings for her good friend Zach. With her once-average life upended, Nattie is determined to figure out once and for all if her short-lived past with Sebastian was something love songs are made of—or just a one-hit wonder.
Praise for Who's That Girl
"Lively and smart, Blair Thornburgh's debut will hook you like a pop song and proceed to win your heart."
—Nina LaCour, award-winning author of We Are Okay
"Blair Thornburgh's debut is the perfect mixture of music and heart, friendship and romance. Like a classic song, Who's That Girl will stick in your head long after the last page."
—Elizabeth Eulberg, author of Better Off Friends
"I should write a love song about how much I adore Blair Thornburgh's fresh and funny debut. Charming, quirky, and full of heart."
—Sarah Mlynowski, New York Times bestselling author of I See London, I See France
"Clever dialogue […] a light, funny romance."
—Kirkus Reviews
"Thornburgh thoughtfully charts the tensions and loyalties among a solid group of friends […] sweetly offbeat and entertaining reading."
—Publishers Weekly
"Charmingly awkward and rooted in the bonds of friendship more than romance, this is a sweet, funny debut."
—Booklist
"The snappy dialogue, extremely likable characters, and daydream-worthy plot make this fun romance with Gilmore Girls–esque humor a perfect summer read."
—School Library Journal
Preorder Swag!
Preorder a copy of Who's That Girl and I will send you a pack of amazingly wonderful swag. Check it!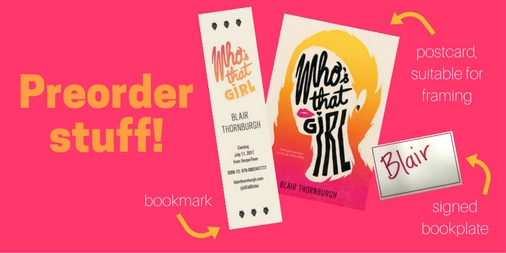 Just purchase the book from literally anywhere (save your receipt or confirmation email!) and click the button below to get your cool, cool stuff. Make sure to save your confirmation email as a screenshot (or as a PDF) or snap a picture of your receipt as proof of purchase. Your local indie bookshop is always great, but here are those online links again:
Questions? Email me at blair@blairthornburgh.com