Last Friday, for the first time in five years, I took the 23 bus. Ten minutes, a handful of stops, a shortcut from gym to home. Or new home, I guess.
I'd always hoped I would get to live in Philadelphia as an adult. I'm not an Eagles fan and I can't remember the last time I ate a cheesesteak, but my roots run pretty deep. Growing up, I had a dad whose job it was to inspire the whole Philadelphia region and remind it of its own greatness and a grandfather who'd saved Pennsylvania from nuclear holocaust (among other impressive feats of office). It rubbed off on me—not because of tribalism or sentimentality, but because I come from smart stock. They—we, I guess—know good things when we see them and don't give them up. And this place is one hell of a good thing.
Philadelphia is a city of contrasts—colonial elegance and urban sprawl, world-class universities and a shamefully low literacy rate, endless, verdant parks and scraggly empty lots. There's the perfect, classical order of the grid streets—numbers one way, tree names the other—and the do-what-you-want, shortest-distance diagonals of the well-worn Lenape footpaths that eventually hardened over into real roadways. And the names! Unpronounceable festivals of consonants and double sibilants. I was born by Tulpehocken, grew up following the Wissahickon to the Schuylkill, cut my teeth on Wawa hoagies, and now I've got a new home on East Passyunk avenue.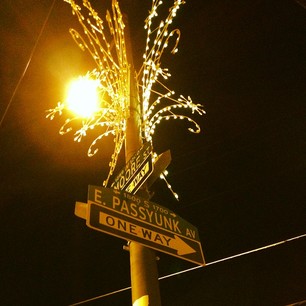 PASH-yunk, not PASS-ee-unk. I've actually had to practice this. My landlords did a good-natured double-take when I said I was born here. My right-side-of-the-tracks prep-school upbringing scrubbed out any hints of regional accent: I put a t in "water" and "orange" (color, flavor, or fruit) has two syllables, not one. But I'm intractably proud of Philadelphia, even if I don't sound like it.
The 23 bus starts at the former site of Borders Books and Music in Chestnut Hill, where I would go after school in 7th grade to drink (and spill) Italian sodas on magazines that my friends and I never actually paid for. It cruises through the hippie-topia of sustainable, diverse small businesses in Mt. Airy straight on to Germantown's Revolutionary War mansions cheek-to-jowl with check cashing joints and gas stations. It stops at Coulter Street for my pre-driver's-license self to alight and go to homeroom in the Classics office at 31 West—"And to the church in Philadelphia, write Behold, I have set before thee an open door." But it keeps on going, through North Philadelphia, to dim parts of the city I still haven't seen, and then, when I'm ready, it grabs me at 12th and Locust, because I'm back, somehow, in Center City. It deposits me almost two miles further south, and from there, it's only a few blocks walking to Passyunk. PASH-yunk. My home—all my homes—have a backbone, a current, a physical conduit to match my travels through time and space. It's cool.
I haven't been everywhere, man, but I've been a few places, and what I've come to realize is that it's not the journey, and it's not the destination either. It's the revisit, the revision. It's There and Back Again on Tolkien's bent road. And this city—by design and by happenstance—is just that: the prescribed, dance-step precision of William Penn's neat corridors and the heart-following, instinct-honing, and literal trailblazing of the Native Americans' secret A-to-B routes. Either way, you get there and look back at everything. Life isn't a trip, it's a whirlwind—revolving around the same things but always lifting you up.
Welcome back, welcome home. My door's always open.