I like to judge the seemingly-arbitrary "success" of a recipe based on whether or not I would like it if someone else made it. Would I pay money to consume this same thing? I think it's a good test, but I tend to flunk it, because I cook equally for survival and fun, and I'm often too hungry to judge clearly. The proof of the pudding is in the leftovers consumed with normal blood sugar levels.
But then! Sometimes I turn out something really good, and it's like validation of all the time and money I've sunk into teaching myself to cook. And that something is this bread, which is fancily called pain à l'ancienne in my bread book but it's basically just a variant of French bread. You can call it ancient pain in your mind, like I do!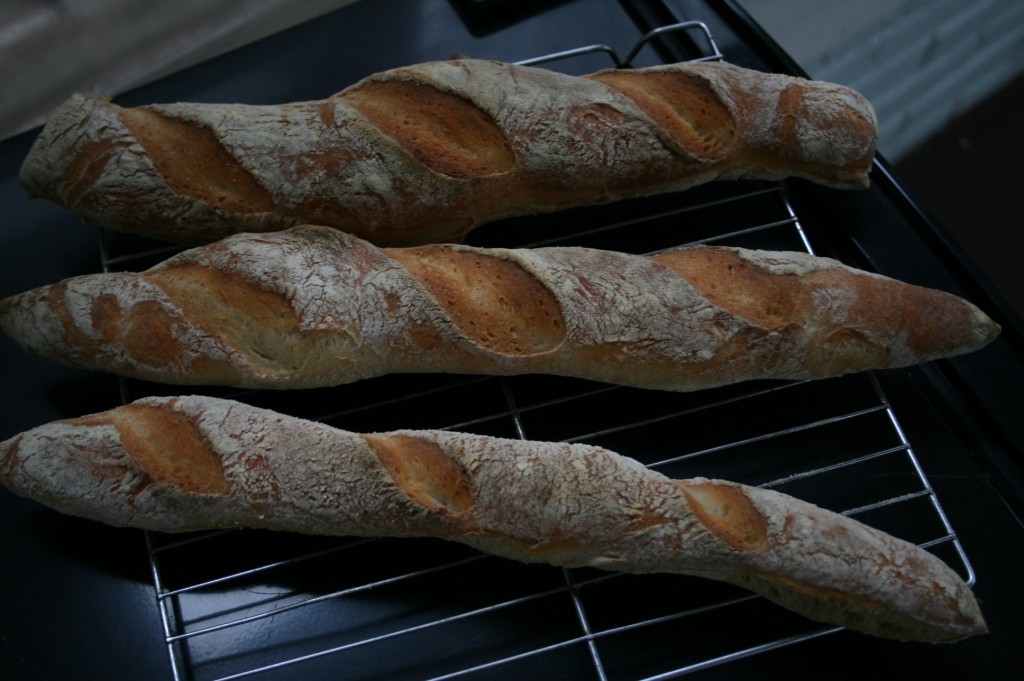 Except that is a totally unfair nickname for something that is not at all painful to make. Making kneading yeast breads is usually a matter of weights & measures & autolyses & proofs & bench rests and stipulations: water at 110 degrees! rise in a warm place! DO NOT DEGAS IT!!! This one is basically like: dump together four ingredients, knead for a bit, stick in fridge. Next day, shape, slash, bake. Ta-da!
Okay okay, so I took a zillion pictures. Shut up! The point is: I am America content with this bread and so can you!
Pain à l'ancienne
adapted from the Bread Baker's Apprentice
3 cups (13.5 oz) bread flour
1 teaspoon salt
1 teaspoon instant yeast
2 1/4 cups (19 oz) cold water
cornmeal, for dusting
Stir together all the ingredients until they form a ball, then knead by hand or by machine with dough hook on medium speed for 5-6 minutes. Dough will be fairly sticky, but it should release cleanly from bowl or counter. Oil a large bowl, dump in dough, cover with plastic wrap, and refrigerate overnight.
The next day, pull the dough out 3 hours before baking and let it come to room temperature and puff up a bit. Then, flour counter generously, roll the dough in the flour, and stretch it out to a rectangle 8 inches wide and 3 inches tall. Let it rest for five minutes and preheat your oven to its highest temperature, with a stone if you have one.
Cover a pizza peel or back of a sheet pan with cornmeal. Using a dough blade (or a very sharp knife, I guess) pinch dough into 3 strips. Stretch them out to the length of the sheet and make slashes in the top with a serrated knife. Pop in the oven (onto a stone or just on the sheet), wait a minute, then turn down temperature to 475. Check after 8 minutes to make sure they're baking evenly, then bake another 10-15 until they're deeply brown. Cool on a rack for half an hour before cutting (or else the bread will get dry).