Any charm in this post is the result of casting things, literally and figuratively, in a favorable light.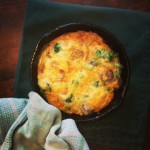 You see three cozy-looking frittatas, nestled in an itty-bitty skillet and becomingly blistered with cheese. You don't see me dashing around my kitchen at seven in the morning, frantically steaming kale, grinding coffee, and scooping my lunch-yogurt into a pint jar. And you definitely don't see the pink, handle-shaped indentation burned under my left thumb.
In pictures, all is pleasant! Life imitates Instagram, or something. Also: does frittata sound like the name of a Pokémon to anyone else?
It remains, however, that a frittata is a good breakfast: good in the virtuous sense of "having vegetables" but also good in the hedonistic sense of "having cheese." I have been making them lo these past two weeks, and even though beating and broiling eggs every morning is a scramble (no pun intended, because that doesn't even make sense for a frittata), it's nice to start the day with some protein. Here is how you make one.
(If you don't want to burn your hand, don't be like me and think you can get away with just using a dish towel to insulate your tender flesh; use something comprehensively heatproof).
Frittata for One
A handful of vegetable matter, frozen or fresh if green (spinach, kale, broccoli, asparagus) and cooked/leftover if otherwise (root vegetables)
1 tbsp. olive oil or butter
2-3 eggs
1/3 cup of cheese in bits (grated works for cheddar or Parmesan, feta and goat cheese can stay in blobs, and if all you have is slices, just tear it into hunks as best you can)
Pre-cooked sausage, cut into rounds, or bacon, cooked and crumbled, or smoked salmon, optional
Salt & pepper
Parsley, chives, or dill, chopped, optional
Hot sauce, optional
Preheat your broiler to low and adjust rack to highest position. If your vegetables are frozen, place them in a microwave-safe bowl and nuke for 1-2 minutes until thawed.
Heat up your lipid matter in your littlest cast iron or other ovenproof skillet over medium heat, then add vegetables, stirring occasionally to keep them from burning, then add the meat product, if using.
Beat eggs with salt (at least 1/2 tsp) and pepper (a few grinds). Add cheese to eggs and stir. Using a rubber spatula, pour egg mixture over vegetables in skillet, pushing in edges and tipping the pan as it sets.
When the eggs are mostly set on the bottom, grab the skillet WITH AN OVEN MITT and put it under the broiler for 3-4 minutes (watching carefully) or until cheese is melted and eggs are puffed and golden. Scarf down warm or room temperature, sprinkled with hot sauce if you like it and herbs if you remembered to chop any up.