Let's not bury the lede here. This is my family's Christmas card this year: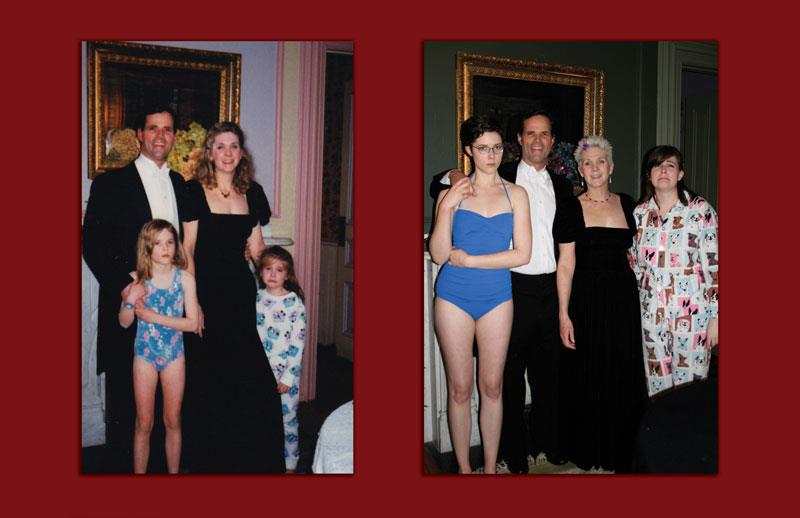 I could tell you a long story about why we recreated this particular picture, but I think I'll let the letter I wrote speak for itself.
Merry Christmas!
Happy New Year!
Happy Valentine's Day! Whatever!
Look, we'll be the first to admit that we're a little behind. But we have good reasons: we forgot, we were busy (see below), and we needed to send cards as part of the 2013 fiscal year for tax purposes.*
Mostly, though, it was in the name of (re)capturing the special moment from 15 (!) years ago for the family photo. The story is, way back in '98, David and Rebecca were all dolled up in white tie for the Academy Ball (as they do every year)**. They were smiling, Alice was sad to see them go, and Blair was…swimming? Sure, fine. Whatever happened, it was a moment that defied logical description then and begged for re-creation now.
As the least physically changed of the family, David has been dutifully preserving an aging portrait of himself in order to keep eternally youthful (just kidding, folks! That's just good, old fashioned healthy livin' for ya). When he's not pulling his tuxedo out of mothballs for contrived photo ops, David is still the fearless leader of the Fels Institute of Government at the University of Pennsylvania, which continues to flourish Fels-ily. He's maintained his obsession with the '88 Vanagon and learned important skills like Soundproofing Your Van and What You Should Do Now To Keep The Coolant From Leaking. Besides rocking out with the Reckless Amateurs and The Miners, David has also added to the household instrument roster with another lap steel guitar and a banjo for the kid (Blair). Online reviews of his work with the Miners praise "Gary" Thornburgh for peddlin' the steel with feelin'.
Marvelous matriarch Rebecca continues to be endlessly creative: besides illustrating her 115th and 116th children's books, she wrote a draft of a mystery novel set in a coffee shop, created a whimsical and wonderful book of "What I Drew In Church" doodles, sang with Reckless Amateurs, the Mendelssohn Club of Philadelphia, and a women's chamber choir, and fiddled. Her recent birthday present of a playhouse was a dream come true (and you're all invited to come help build it over Memorial Day weekend!) Her signature punk-rock-pixie-cut continues to be the coolest hairstyle that anyone has ever had (is the pink natural? Only her stylist knows for sure!) She also avows an addiction to watching '24' on Netflix, at which her family lovingly restrains from rolling their collective eyes.
Elder daughter Blair (your humble amanuensis for this epistolary endeavor) has been busy growing about eight feet (see photo). She graduated in June from the University of Chicago, where she not only wrote a 40-page thesis on Latin and Old French literature for her Medieval Studies degree, but was also one of three student speakers at the Convocation ceremony (her speech, however, was in English). She spent the summer in New York City as an intern at the Jewish Daily Forward, where she was published on the front page and finally learned to spell the work "shtup" correctly (though for different articles). She then departed in September for a three-month long finding-yourself-in- a-foreign-country thing in Montreal, where she spoke French, wrote two young adult novels, and diligently avoided detection by the Royal Canadian Mounted Immigration Police. As of, like, three weeks ago, Blair is the newest member of the editorial team at Quirk Books (they of Pride and Prejudice and Zombies fame) in Philadelphia, and she doesn't think it's premature to say that reading and writing about groovy and wonderful books all day is the best job forever and ever, amen.
Lastly, little Alice, who is actually NOT so little any longer, had the coolest adventures of anyone: she spent the fall of her junior year in college studying abroad in Florence, which is in Italy, which is awesome. With a veritable smorgasbord of studio classes spread before her, Alice learned to do all kinds of crazy things like sew clothes, illustrate children's books (say…), paint in many media, and inform Italian waiters that she is dead***. Also, she got to walk past the Duomo on the way to school every day, which CAN YOU EVEN IMAGINE. After bidding Italy arrivederci, Alice has returned to her natal nation for the remainder of her year at Vassar, where she intersperses her art studies with video games, sketchbook drawing, and lending her ethereally graceful soprano to the Vassar Camerata.
Our standard poodles, Rory and Zero (not pictured), keep up a rigorous daily schedule of barking, sleeping, eating, attempting to open the fridge, eating some more, and barking. We love them a lot but would really like them to stop climbing on our legs at night.
Well, there it is. You'll excuse us for not lingering, but we really need to get the ornaments off the tree.
See you in another fifteen years!
*No.
**No.
***This was actually a comical cultural misunderstanding.