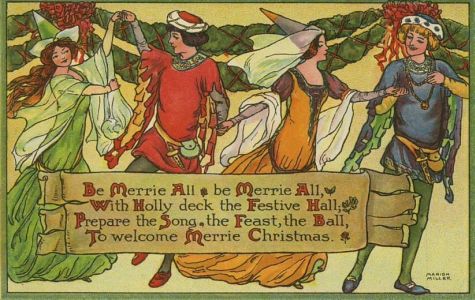 I love Christmas carols. HOWEVER: I do NOT love what most of the idiot world considers to be a Christmas carol. Songs about sleighs, Santa, sugarplums, etc., are NOT carols, they are garbage that deserves to rot on the side of the street like so much crumpled wrapping paper.
No, the truly best Christmas carols fall into at least one of the following categories:
1. Songs in Latin
2. Songs about food
3. Songs about Hell and/or avoidance thereof
4. Songs about decidedly non-canonical adventures of Jesus, Mary, and/or Joseph
5. Songs that use the word "flesh"
6. Good King Wenceslas
Bonus points are awarded if the song was clearly hastily Christianized with a few macaronic verses or if it sounds good played on the bagpipe.
There are only approximately 30 days of the unofficial Christmas carol listening season, and I would hate for you to waste one second of them letting an INFERIOR Christmas carol bleat through your earbuds. Therefore, I have taken it upon myself to let you know what the good ones are. This is my final decision and I will brook no dissent.
God Rest Ye Merry Gentleman
This is the only mainstream Christmas carol that mentions Satan, and IN THE FIRST VERSE, no less. (It was also my favorite as a kid for this self-same reason.) This is metal as heck.
The Holly and the Ivy
Two plants get uppity about which is better; also, Jesus was born. This carol gets major points for terrible rhymes (blood/good, grown/crown) which as we all know is a favorite territory of mine. I also like to think that this carol is directly responsible for the absence of ivy from conventional Christmas decorations.
The Cherry Tree Carol
If you do not know the lyrics to this one, go look them up, for verily they are BONKERS. A preggo Mary is wandering around and sees a bunch of delicious cherries growing on a tree. Being incapacitated due to her expectatory state, she asks Joseph to pick some for her, but he's like "eh, why don't you let the FATHER OF YOUR CHILD pick them, slut" and then Jesus FROM INSIDE THE WOMB commands the tree to reach its branches down to Mary. I'm about 70% sure this didn't actually happen in the Bible, but it probably should have.
In the Bleak Midwinter
This one is actually really annoying and smarmy (obviously, the lyrics are by Christina Rossetti) but it DOES contain the titillating phrase "a BREAST full of MIIIIILK" at which I challenge not to snort when the tenor soloist sings it plangently. (Tenors are always singing plangently.)
Good King Wenceslas
So when I was in high school we used to sing this en masse in alternating verses using the following breakdown:
King Wenceslas: Boys
The page: Girls
But apparently they've done away with that tradition and now they sing it thusly:
King Wenceslas: Whoever
The page: Ehhhh
This is treason! Also, I'd always sing the boy parts anyway, because nothing is better than gruffly intoning BRING ME FLESH AND BRING ME WINE like you're some forgotten minor monarch.
The Coventry Carol, but ONLY the "Herod the King" verse
The Coventry Carol would ordinarily get automatic disqualification for being one of the boringest kinds of Christmas carol (lullabies?! Who cares? The Incarnate Son of God has just been squeezed out onto a barn floor and you're just going to let him GO TO SLEEP?!?), but it redeems itself with a VERY DARK third verse about infanticide. Not that I'm suggesting the Massacre of the Innocents was awesome or anything, because it very much wasn't, but there is something super spooky and affecting about the melody of "He-ROD the KIIIIING, in hiiiis RAAAAAgiiiing," especially if you sing it a cappella.
Edit: Some people have pointed out the the Coventry Carol is actually a dirge sung by the mothers of the slain children and not a lullaby for Jesus at all. Which is SUPER grim! Why do we even use it?! Christ, no pun intended. Anyway, I apologize for the error; I can't believe that fact didn't turn up during my two minutes of exhausting [sic] research.
Personent Hodie
You might know this one as "On This Day, Earth Shall Ring," but as with every hymn, the English version is for illiterate heathens. (Sample lyrics: Blah blah blah, bells all ring, something something, we all sing! PUERILE.) It sounds infinitely more sophisticated and authoritative in Latin, and also it's way easier to rhyme stuff. I think it's about bells or something.
Gaudete
Another good Latinate one, inveighing people to REJOICE because Christ is born from the Virgin Mary. Plus, you get to sing the phrase "hoc quod optabamus" which really rolls off the tongue. (Also, this video of Anuna features LADS SINGING MERRILY IN DOUBLETS, so it comes doubly recommended.)
I Saw Three Ships
AKA the Apocryphal Nautical Adventures of Mary and Jesus! I have so many questions about this one. First: who is the narrator? Probably not one of the fisherman apostles, because Jesus is still a baby. Maybe it's Joseph? And don't give me one of those pat "the narrator represents the Church" answers or I will hit you. Second: how can a person be on THREE SHIPS at once? It's like…expecting God to be at once a Father, Son, and Holy Spirit, or someth—okay, I get it. What I WANTED to be a tale of maritime follies with God Jr. and the Queen of Heaven is actually a belabored metaphor about the trinity. Well, whatever, it's still a great tune.
The Boar's Head Carol
Almost the absolute best carol ever written. Peasants carting around a dead pig noggin and then quickly remembering that Christmas is about CHRIST and working in some Latin bits. Phrases like "Let us servire cantico!" definitely sound like they came out after a few too many skins of wine, and I am 100% okay with that. Christmas is about winter and winter is about eating (and don't be one of those "well Jesus was probably REALLY born in April" people, unless you're going to use that point to tell Christina Rossetti she's full of it with her "Bleak Midwinter" bullsh).
Let All Mortal Flesh Keep Silence
I mean, just look at the first verse:
Let all mortal flesh keep silence,
And with fear and trembling stand;
Ponder nothing earthly minded,
For with blessing in His hand,
Christ our God to earth descending
Comes our homage to demand.
A-mother-fucking-men. This is a Christmas carol that does NOT mess around. Christ is coming and he wants your homage, whatever that is. (When I was a kid, we acted out the shepherds bringing homage to Jesus by putting towels on our head and depositing these burlap bags in front of the manger, so for a long time I assumed "homage" was just a bag of stuff).
It only gets creepier in the third and fourth verses, too:
Rank on rank the host of heaven
Spreads its vanguard on the way,
As the Light of light descendeth
From the realms of endless day,
Comes the powers of hell to vanquish
As the darkness clears away.
At His feet the six wingèd seraph,
Cherubim with sleepless eye,
Veil their faces to the presence,
As with ceaseless voice they cry:
Alleluia, Alleluia
Alleluia, Lord Most High!
JESUS VANQUISHING HELL. SIX WINGED SERAPH AND CHERUBIM THAT COULD ZAP RUDOLPH INTO VENISON WITH ONE GLANCE FROM THEIR LASER-FOCUSED SLEEPLESS EYES. Look, I know Christmas is all about celebrating the birth of Jesus as a tender human babelet, but when push comes to shove I really want a god-man who can BURN STUFF DOWN, you know? It just makes me feel way more secure in my own mortality.
Edit: A few other people (not the same people as the Coventry Carol people) have noted that this is not technically a Christmas carol, but a Eucharistic chant that became a hymn. We, being unenlightened Presbyterian dodos, always sang it at Christmas, hence its inclusion here.
And there you have it—the best songs. Feliz Navidad, or whatever, which is NOT a song I recommend.
Hey hi! If you think this post is funny (and I hope you do, otherwise please don't leave a mean comment picking apart my theology), I wrote a YA novel you might enjoy. There are no carols but there is Latin poetry, which is equally wonky. Check it!